Different skin conditions can be checked by appropriate
Light options & Magnification.

The 4 different light options of IDS-3100 [MAGNUM UV+] will help you
to develop and enhance your diagnostic skills
UV Light Skin Examination [Wood's Light]
IDS-3100 has 3 options in UV light.
a. 4 x 405nm UV LED
b. 2 x 395nm UV LED
c. [2 x 395nm] + [4 x 405nm] UV LED
UV Light skin examination is used for Detection of
bacterial or fungal skin infections,
pigmented & hypo-pigmented skin lesions incl. melisma and vitiligo
determining the location of the melanin pigment (epidermis & dermis)
IDS-3100 is a new concept of UV Light Magnifier that compensates the inconvenience of conventional wood's lamp. Moreover, its high power UV LED and specially designed lens coating present excellent UV fluorescence image.
White Light Skin Examination
IDS-3100 has 2 options in White light.
a. Cross polarized light (polarized light)
b. Parallel polarized light (non-polarized light)
Cross polarized light skin examination is used for detection of
actinic keratosis,
non-melanoma skin cancers, and
melanoma
by reducing the reflection of the skin surface. It allows a quick examination of pigmented skin lesions prior to precise analysis using a dermatoscope.
Presents excellent visual acuity
IDS-3100 [MAGNUM UV+] is designed to perform its designated functions with high level quality.
Specially designed

aspherical lens

reduces spherical and optical aberrations and presents clear image with

min. distortion

.
In addition, specially disigned

lens

coatings

make the object seen through the lens look more accurate and clear.
Designed with your comfort in mind
100MM large field of view
Effective focal length and working distance
working distance (eye to lens): 90 ~ 150mm
focal length (lens to skin): 65 ~ 150mm
The effective distance between "eye to lens" and "lens to skin" make your work
more easy and comfortable.
3 level of brightness
Automatic shutdown after 5 min.
Remarkable Features
2.5 x Magnification
100mm large field of view.
300g light weight: easy to handle.
Nano Hybrid Hard Coating enhances UV transmittance and lens protection, and prevent contamination and scratches.
Aspherical lens minimizes distortion and improves visual acuity.
Automatic shut down after 5 minutes idle run
Easy store and charging (charging station)
Applications
Dermatology
Veterinary Medicine
General Medicine
Esthetics
Vitiligo
Milium
Acne pigmentation
Sebum
Actinic Keratosis, Squamous cell carcinoma (PDD)
Pityriasis versicolor
Capillary
Pigmented & Hypo-pigmented skin lesions
Cutaneous fungal, Bacterial infection
Skin inflammation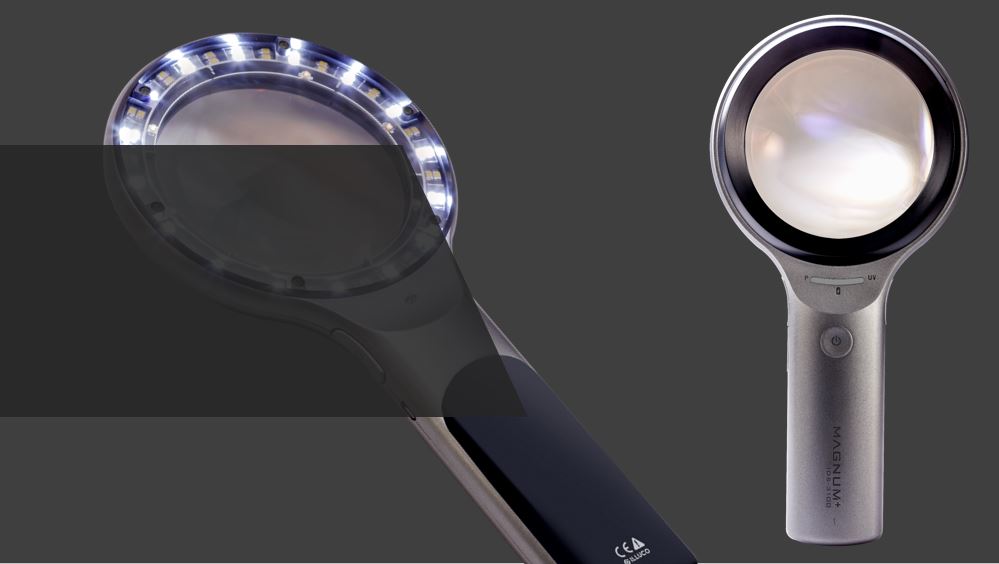 Technical Specifications
Polarization Mode

Parallel & Cross
UV Mode
395nm & 405nm
Magnification
2.5 x
Field of View
100 mm
Weight
370 g
Lens
Aspherical lens
Examination
Binocular Examination
Resolution
23 LP
Coating
AR Coating
Distortion
Under 3%
LED
64 x White LEDs / 6 x UV LEDs
Intensity of Illuminaton
SMD type 3,500 ~ 4,000 Lux
Brightness Control
3 leves
LED life
100,000 hours
Power Supply
Rechargeable / 3,400mAh
Sleep Mode
5 mins after not in use
Charging Method
Micro USB 5 pin or Charging Cradle
Charging Time
8.5 hours
Continuous Duty Time
2.5 ~ 4 hours
Skin Examination Images [IDS-3100 MAGNUM UV+]
UV light skin examinationSkin examination images [IDS-3100 MAGNUM UV+]: UV Light (Wood's Lamp) and White Light Magnifier
UV light skin examinationSkin examination images [IDS-3100 MAGNUM UV+]: UV Light (Wood's Lamp) and White Light Magnifier
White light skin examination (polarization light)Skin examination images [IDS-3100 MAGNUM UV+]: UV Light (Wood's Lamp) and White Light Magnifier
UV light skin examination (wood's light)Skin examination images [IDS-3100 MAGNUM UV+]: UV Light (Wood's Lamp) and White Light Magnifier
UV light skin examination (wood's light)Skin examination images [IDS-3100 MAGNUM UV+]: UV Light (Wood's Lamp) and White Light Magnifier
UV light skin examination (Wood's light)Skin examination images [IDS-3100 MAGNUM UV+]: UV Light (Wood's Lamp) and White Light Magnifier
White light skin examination (polarization light)Skin examination images [IDS-3100 MAGNUM UV+]: UV Light (Wood's Lamp) and White Light Magnifier