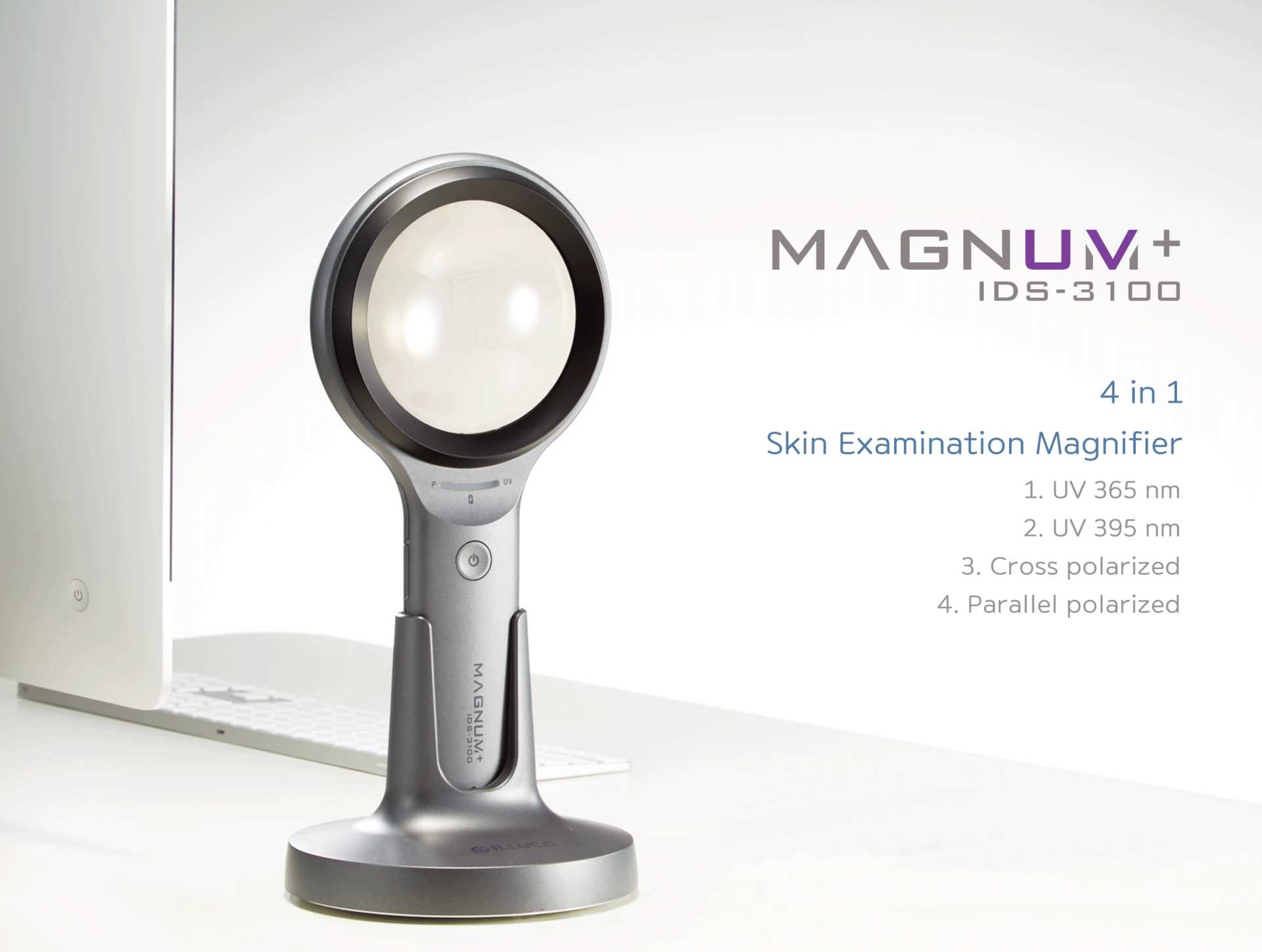 Magnifier with Wood's Lamp " 4 in 1 " MAGNUM+
The perfect solution for your office.
Light is made up of wavelengths of light and each wavelength is a particular color.
The color we see is a result of which wavelengths are reflected back to our eyes.
Objects appear different colors depending on the nature of the light.
MAGNUM has 4 different lights which mainly used for skin examinations.
Different skin conditions can be checked by appropriate observation method.
You can check various skin condition with one device "Magnum" which is convenience and wireless.
Are you still observing skin condition and lesions by naked eyes?
Use MAGNUM IDS-3100 for more accuracy to gain your patient faith in your diagnosis !
Normal
Better able to examine skin surface.
Cross Polarized
Diagnosis of actinic keratosis, non-melanoma skin cancers, and melanoma by reducing the reflection of the skin surface.
UV 395 & 405 nm (wood's lamp)
Detection of cutaneous fungal or bacterial infection, acne, skin inflammation, etc. Photodynamic diagnosis of skin cancers using fluorescence.
Examination of pigmented & hypo-pigmented skin lesions including melisma and vitiligo. Also useful for determining the location of the melanin pigment (epidermis or dermis).
Remarkable Features of MAGNUM+ (IDS-3100)
2.5 x / 100mm large field of view.
Light weight, easy to handle.
Nano Hybrid Hard Coating enhances UV transmittance and lens protection, prevention of contamination and scratches.
Aspherical lens minimizes distortion and enhanced visual quality.
Automatic shut down after not in use more than 5 minutes.
Easy store and charging (charging cradle)
5 years warranty
Applications
Dermatology
Veterinary Medicine
General Medicine
Esthetics
Vitiligo
Milium
Acne pigmentation
Sebum
Actinic Keratosis, Squamous cell carcinoma (PDD)
Pityriasis versicolor
Capillary
Pigmented & Hypo-pigmented skin lesions
Cutaneous fungal, Bacterial infection
Skin inflammation
Technical Specifications
Polarization Mode

Parallel & Cross
UV Mode
395nm & 405nm
Magnification
2.5 x
Field of View
100 mm
Weight
370 g
Lens
Aspherical lens
Examination
Binocular Examination
Resolution
23 LP
Coating
AR Coating
Distortion
Under 3%
LED
64 x White LEDs / 6 x UV LEDs
Intensity of Illuminaton
SMD type 3,500 ~ 4,000 Lux
Brightness Control
3 leves
LED life
100,000 hours
Power Supply
Rechargeable / 3,400mAh
Sleep Mode
5 mins after not in use
Charging Method
Micro USB 5 pin or Charging Cradle
Charging Time
8.5 hours
Continuous Duty Time
2.5 ~ 4 hours
Lesions taken by MAGNUM+ (IDS-3100)